Vietnamese Rice Noodle Salad
Type: Dinner
Servings: 4
Prep Time: 10 mins
Cook TIme: 10 mins
Try it, you'll love it. Deal or noodle?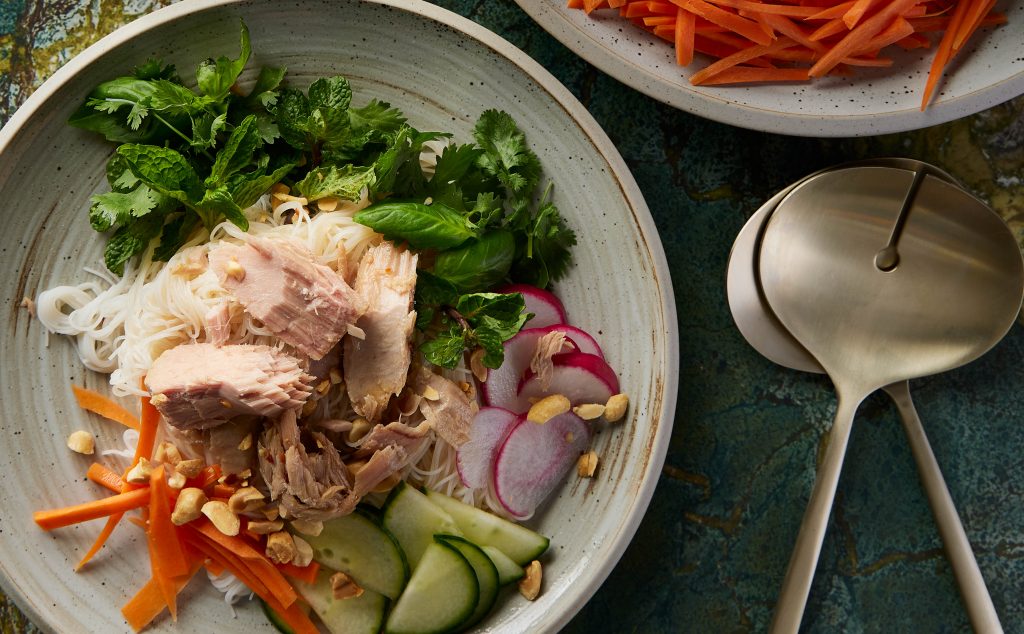 Ingredients
Dressing (make 30 mins ahead)
3 cup tightly packed light brown sugar 
1 lime juiced
3 TB fish sauce 
2 cloves of garlic finely minced
1 TB crushed red pepper or sliced thai chili
1/3 cup warm water plus 2 TB
Salad
1 package of Vermicelli Rice Noodle – cooked as directed 
2 jars of Tonnino Albacore in Spring Water, drained and chopped 
1 cup thinly sliced radish 
1 cup of shredded carrots 
1 english cucumber thinly sliced 
½ cup of fresh chopped herbs (cilantro, basil and mint) 
3 scallions, thinly sliced
1 cup of roasted peanuts or cashews chopped
Directions
For Dressing
Mix all ingredients together, season with salt and pepper and set aside
For Salad
Make rice noodles as directed, rinse with cold water, drain well and set aside 
Chop tuna into large chunks and mix 3 TB of dressing with tuna 
Mix rice noodles, cucumber, carrots, fresh herbs, radish and tuna with ¾ of remaining dressing 
Garnish with extra dressing, peanuts and scallions
Notes
A great addition when serving this recipe is adding your favorite take out spring roll. Slice them up and serve with the salad and a little drizzle of dressing. Adding hot water when making dressing helps dissolve the sugar.