Asparagus & Spring Pea Truffled Tuna Risotto
Type: Dinner
Servings: 6
Prep Time: 10 mins
Cook TIme: 30 mins
Fresh and delish! Especially with fish.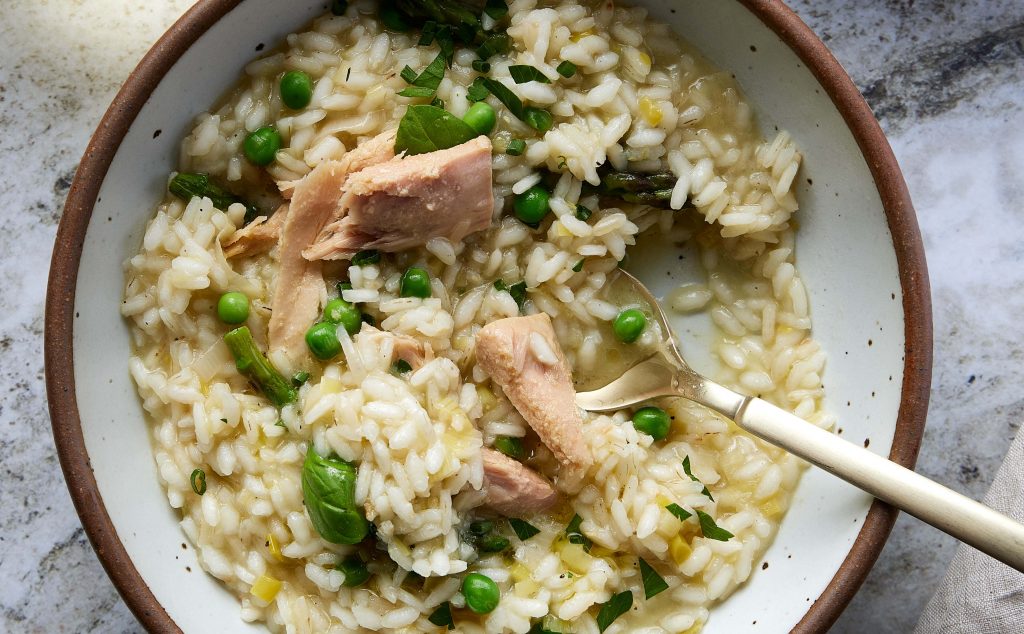 Ingredients
2 cups uncooked Carniola or Arborio Rice 
1½ cup of leeks, thinly sliced 
1 bunch of asparagus, tough end cut off and chopped into bite size pieces
1 cup of fresh or frozen peas (if frozen, thaw ahead of time)
7 – 8 cups of vegetable, seafood or chicken stock, kept warm on stove top
½ cup dry white wine (or sub extra cup of stock)
1 lemon zested  
2 jars of Tonnino Truffle Albacore, drained
¼ cup of fresh green herbs chopped (basil, chives, parsley, tarragon or dill) 
2 – 3 TB of olive oil 
Salt and pepper to taste 
Parmesan or pecorino to finish
Directions
Using a large skillet, add 2TB of olive oil over medium high heat and add asparagus, salt and pepper. Sauté for 3 – 4 minutes until cooked and peas, cook 2 minutes further, remove from pan and set aside 
Add 1 TB of olive and sauté leeks until softened about 3- 4 minutes 
Stir in rice and make sure everything is mixed in well and the rice is coated with the leeks and olive oil. Sauté for 2 – 3 minutes until rice is turned slightly white
Add in white wine and stir until completely reduced 
Ladle in warm broth one ladle at a time (about ½ cup or so), reduce heat slightly so mixture is a low simmer and continue to stir mixture slowly until broth has been absorbed by the rice
Continue adding broth at this pace until rice is perfectly al dente to your liking. The risotto should be creamy and soft 
Add in ¾ of the asparagus and pea mixture, season with salt and pepper and stir 
Remove from heat and plate, flaking generous amount of the tuna and finish with remaining asparagus and pea mixture as well as sprinkle of lemon zest
Notes
Brighten the dish up with a  squeeze of fresh lemon. This dish is great when served with your favorite green salad. Go on, go green!