Classic Caesar Salad
Type: Dinner
Servings: 4
Prep Time: 10 mins
Cook TIme: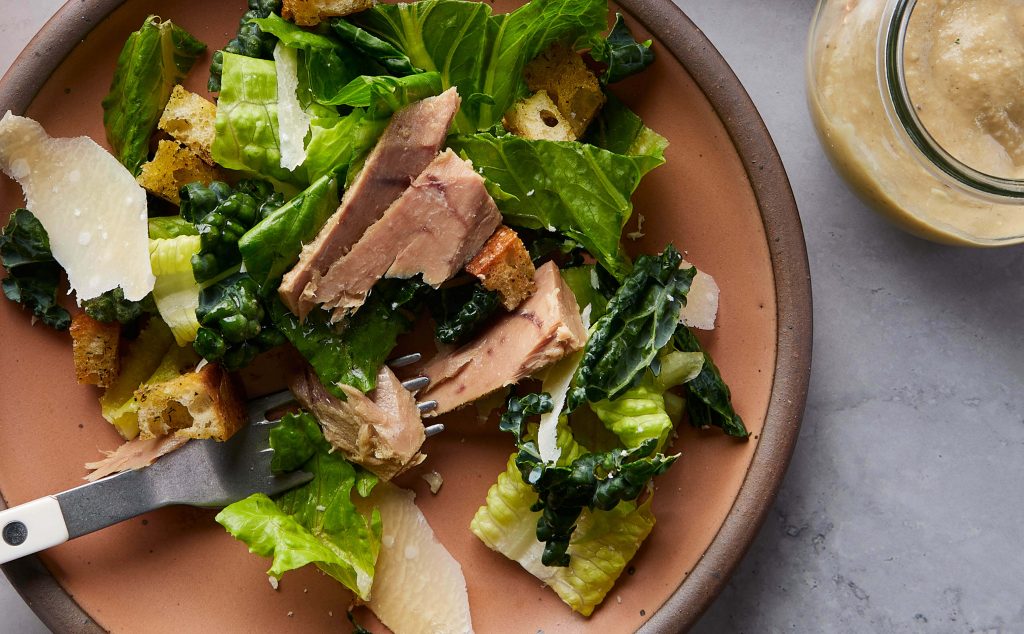 Ingredients
Dressing
1 1/4 cup of freshly grated parmesan cheese
1 TB Dijon mustard
4 TB olive oil 
4 anchovy filets, finely chopped  
½  lemon, juiced 
2 cloves of garlic minced
2 tsp of red wine vinegar 
Salt and pepper to taste
Salad
4 cups of romaine and kale chopped  
2 jars of Toninno Yellow Fin Tuna in Olive Oil, drained   
Garnish with tons of fresh grated parmesan and favorite croutons
Directions
For Dressing
Blend all ingredients together, season with salt and pepper. If too thick add 1 tsp of water at a time until desired consistency. 
For Salad
In a large bowl place all ingredients and give a good toss
Drizzle with dressing, toss together and serve immediately
Garnish with additional fresh ground pepper and freshly grated parmesan
Notes
For a time saving hack, use your favorite Caesar dressing! Dressing can be made a day or two ahead of time and stored in the refrigerator. Using high quality parmesan reggiano makes a huge difference with the taste.