Featured Recipe
Honey Ginger Stir Fry With Saffron Rice
Type: Dinner
Servings: 4
Prep Time: 10 mins
Cook TIme: 30 mins
Tastes spicy, bright & tropical! Like a vacation in your mouth.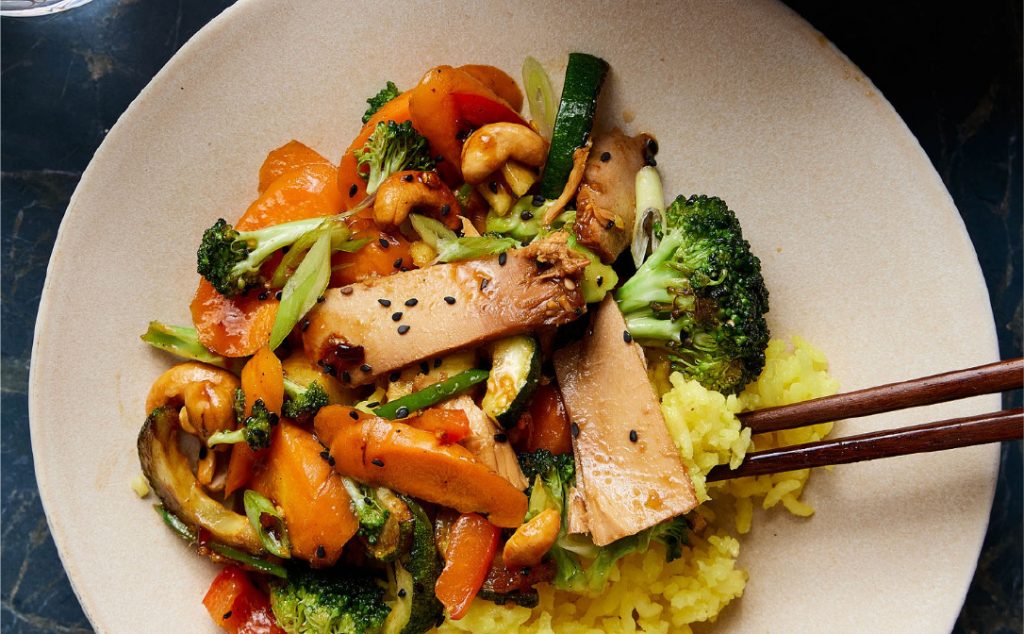 Ingredients
Sauce
½ cup soy sauce (or tamari if gf)
¼ cup hoisin (if gf, look for gf hoisin or omit)
¼ cup pineapple, mango or tropical fruit jam
2 TB rice wine vinegar
1 TB sesame seeds
3 TB honey
1 TB fresh grated ginger
1 – 2 cloves of garlic finely minced
½ cup of chopped roasted and salted cashews
Stir Fry
2 cups of cooked white or brown rice – cooked as directed
Pinch of saffron
2 jars of Tonnino Ginger Soy Albacore
5 – 6 pieces of baby bok choy, washed and sliced in half
1 cup of broccoli chopped
½ cup of any color bell pepper sliced
½ cup of sliced carrots
½ cup sliced zucchini
½ cup of sliced snow peas or sugar snap peas
½ cup of fresh pineapple or mango, diced
3 – 4 TB of neutral oil
2 scallions, thinly sliced
Directions
For Sauce
It doesn't get easier than this. Just mix all ingredients together, season with salt and pepper and set aside.
For Stir Fry
Take a pinch of saffron and crush with mortar and pestle or using back of spoon. Add 1TB of hot water and let steep for 10 minutes. Add in 1 TB neutral oil mix together
Make rice as directed, adding in saffron mixture in beginning of cooking process, fluff with fork once done and set aside
Chop Tonnino tuna into large chunks and set aside
In a large skillet or wok, heat up 2 TB of oil on medium high heat and begin to sauté the baby bok choy for 2 mins and set aside. Sauté all of the vegetables and season each with salt and pepper one at a time starting with the broccoli and remove each from the skillet and set aside in a large dish. Once all vegetables are sautéed return them all to the skillet, add in the sauce, fruit and simmer
Pull off of heat and add in tuna and cashews and toss carefully
Plate with rice and serve to your adoring foodie fans
Notes
If you like things on the higher end of the Scoville Scale add additional crushed red pepper. Use whatever fresh veg you have, or whatever's left in your fridge! This sauce will go with everything, trust us.
Storage
For all your pre-planners and food-preppers, the sauce can be made a day or two ahead of time and stored in the refrigerator.