Pad Thai
Type: Dinner
Servings: 4
Prep Time: 15 mins
Cook TIme: 15 mins
Get your notepad. Because this pad thai is noteworthy.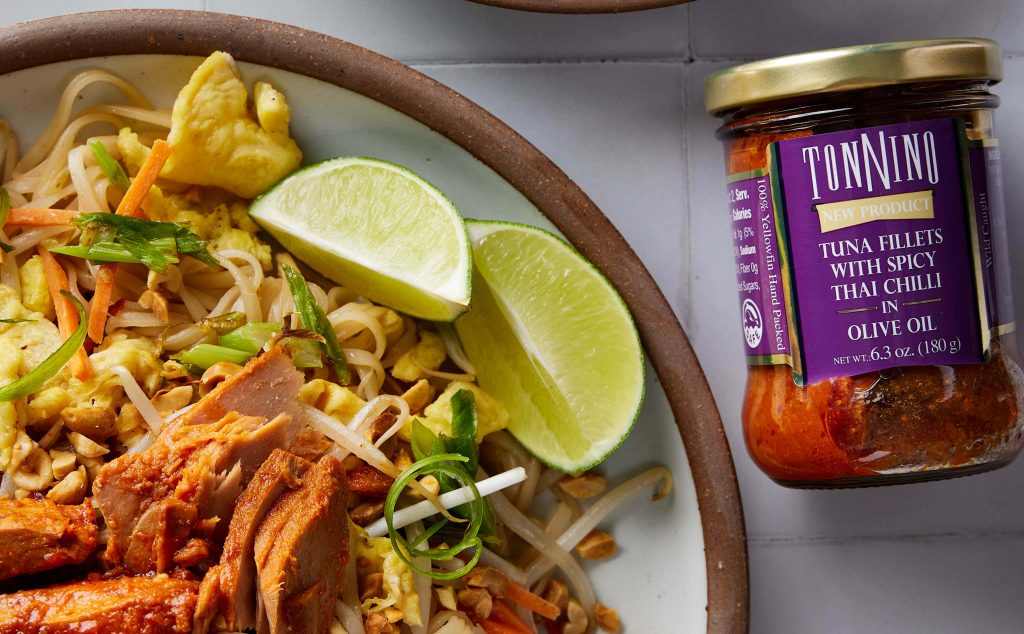 Ingredients
Sauce
1/3 cup light brown sugar (dark brown is fine as well)
1 lime juiced
3 TB fish sauce 
2 ½ TB soy sauce (or tamari if GF)
2 TB tamarind concentrate
1 – 2 tsp crushed red pepper, depending on desired heat level
Pad Thai
1 package of Thin Flat Rice Noodle – cooked as directed 
2 jars of Tonnino Thai Chili Albacore, drained and chopped 
½ cup of shredded carrots 
1 cup of mung bean sprouts 
1 clove of garlic minced 
3 TB neutral oil 
3 eggs scrambled 
3 scallions, thinly sliced
Garnish with roasted peanuts, cilantro, scallions, extra crushed red pepper and lime wedges
Directions
For Sauce
Mix all ingredients, season with salt and pepper together and set aside
For Pad Thai
Make rice noodles as directed, rinse with cold water, drain well, toss with a TB of neutral oil and set aside 
Chop tuna into large chunks and mix 1 ½ TB of sauce with tuna 
Scramble eggs and set aside 
In a large skillet add remaining oil and over medium high heat sauté garlic, carrots and bean sprouts for about 2 minutes
Add eggs, noodles and sauce to pan with vegetables. Toss together and warm through. 
Turn off heat, add scallions and tuna. Toss together and serve immediately 
Garnish with extra dressing, peanuts and scallions
Notes
If you like it spicy add crushed red pepper and to brighten the dish up even further add a squeeze of fresh lime. For Tamarind concentrate, try finding a Thai style versus Indian. They tend to be slightly different in flavor.