Pasta Primavera
Type: Dinner
Servings: 6
Prep Time: 10 mins
Cook TIme: 20 mins
The crème de la crème of pastas.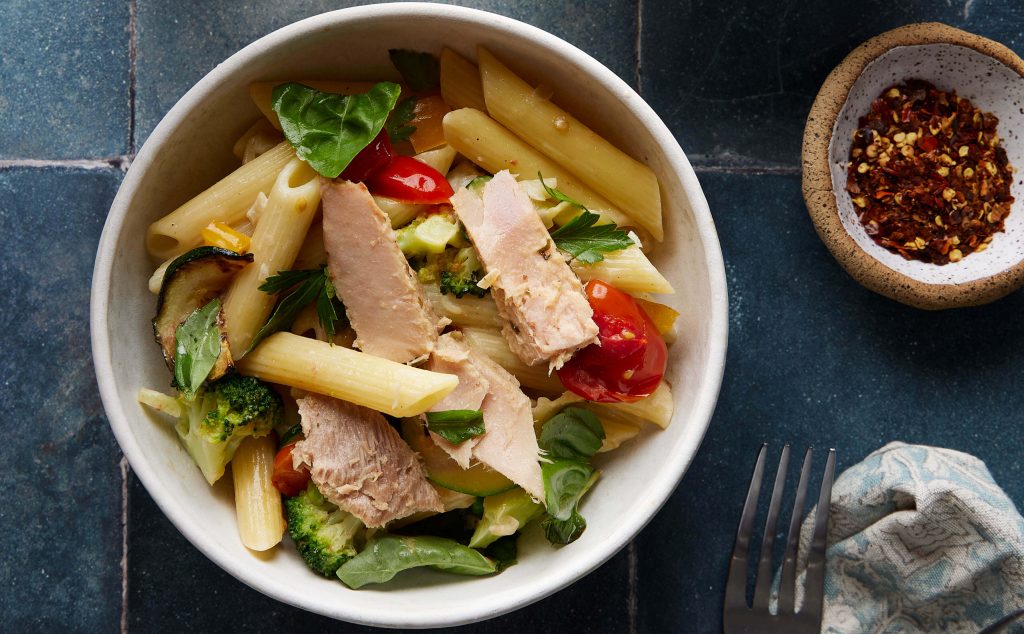 Ingredients
1 lb short pasta (rigatoni, penne, farfalle or favorite GF pasta) – cooked as directed 
3/4 cup of reserved pasta water 
3/4 cup of vegetable or chicken stock 
½ of a shallot finely diced 
1 – 2 cloves of garlic finely minced 
1 ½ cups cherry tomatoes, cut in ½ 
1 cup of peas (fresh or frozen) 
1 bell pepper (any color), chopped bite sized
1 small zucchini, sliced 
1 ½ cups of broccoli, chopped bite sized  
1 lemon zested  
1 cup heavy cream 
1 cup freshly grated parmesan plus extra to garnish plates if desired 
2 jars of Tonnino Yellowfin Tuna with Oregano, drained
¼ cup of fresh basil and parsley finely chopped  
4 TB of olive oil 
Salt and pepper
Directions
Salt pasta water and bring to boil, cook pasta as directed to al dente and reserve ¾ cup of pasta water at the end of the cooking process
(While pasta water is boiling/pasta is cooking)
In a large skillet over medium high heat add 2 TB of olive oil, shallot. Sauté for 3 – 5 minutes until soft  
Add one vegetable, season each with salt and pepper at a time starting with bell pepper, broccoli, zucchini and peas. Sauté each for 3 – 5 minutes until soft 
Add cherry tomatoes and sauté for 5 minutes 
Transfer vegetables to a large bowl 
Add 2 TB of olive oil to pan and sauté garlic 
Add in stock and pasta water and simmer until reduced by half 
Add in cream and simmer for 2 minutes
Add in pasta, vegetables and lemon zest, toss together and take off of heat
Add in cheese, herbs and tuna, toss together once more 
Serve immediately and enjoy!
Notes
If you like it spicy add additional crushed red pepper. Add a squeeze of fresh lemon. Using good quality parmesan reggiano is great in this recipe.