Ratatouille with Tuna & Roasted Potatoes
Type: Dinner
Servings: 4
Prep Time: 15 mins
Cook TIme: 1 hour 15 mins
Like sitting next to a warm, cozy fire on a cold winter night.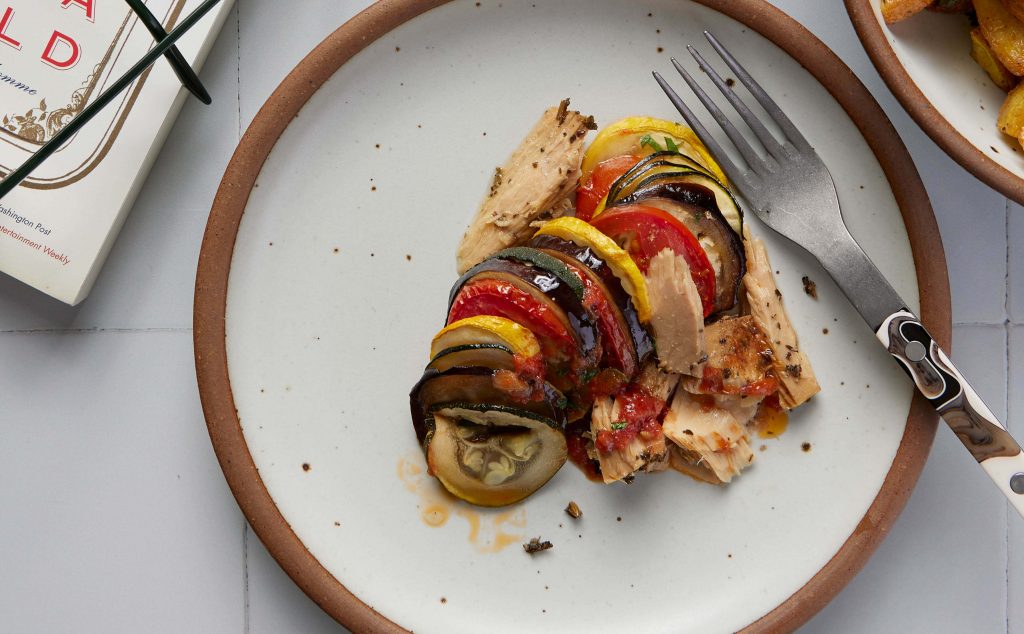 Ingredients
Roasted Potatoes
3 TB olive oil 
1 lb of Yukon Gold, fingerling or russet potatoes
2 TB fresh parsley chopped 
Salt and pepper to taste
Ratatouille
1 small eggplant  
1 zucchini  
1 yellow squash 
4 roma tomatoes
2 jars of Toninno Albacore Herbs de Provence, reserving oil 
½ medium onion, finely chopped
2 cloves of garlic minced
1 14 oz can of crushed tomatoes
¼ cup fresh parsley (or fresh parsley and thyme) chopped 
4 TB Olive Oil 
Zest of ½ Lemon
Pinch of sugar
Salt and pepper
Directions
For Potatoes
Preheat oven to 425F 
Wash and dry potatoes and chop into uniform ½" thick chunks 
Arrange on a baking sheet and drizzle with olive oil, generous amount of salt and black pepper 
Bake for 20 – 25 mins, check for doneness 
Pull from oven and leave on sheet pan 
Toss with fresh parsley
For Ratatouille
While potatoes are cooking:
Slice eggplant, zucchini, yellow squash and roma tomatoes in rounds about 1/8" thick and set aside 
In a medium sized skillet on medium high heat sauté onion, garlic, a pinch of salt and pepper in 2TB of olive oil until fragrant and the onions are translucent
Add in crushed tomatoes, pinch of sugar, salt and pepper and reduce heat so everything is simmer gently for about 8 minutes 
Mix in 2 TB of fresh herbs and put everything into a 2 quart baking dish or cast iron pan
Begin to layer tomato, eggplant, zucchini and yellow squash in a circular pattern standing up right in the dish 
Brush with vegetables with olive oil 
Bake for about 30 minutes uncovered, turn oven up to 400F to finish baking until vegetable are tender about 10 – 15mins more
While the Ratatouille is baking, place drained tuna in a bowl with 2 TB of fresh herbs, lemon zest and break up into smaller pieces. Drizzle some of oil from tuna jar in with mixture to flavor it further and set aside in refrigerator 
Once Ratatouille is 5 minutes away from being finished put potatoes back in hot oven on sheet pan to warm. Toss with fresh parsley once out of the oven
To Finish
Top ratatouille with tuna mixture and serve with roasted potatoes 
Notes
Don't over crowd sheet pan with potatoes. This will keep in the fridge for 3 days and honestly taste even better day 2! If you are in a pinch for time you can use your favorite jarred tomato sauce but this will change the overall flavor of the dish to more Italian versus French but hey, that's ok!