Spicy Tuna Roll
Type: Dinner
Servings: 6
Prep Time: 20 mins
Cook TIme: 30 mins
Keep rollin' rollin' rollin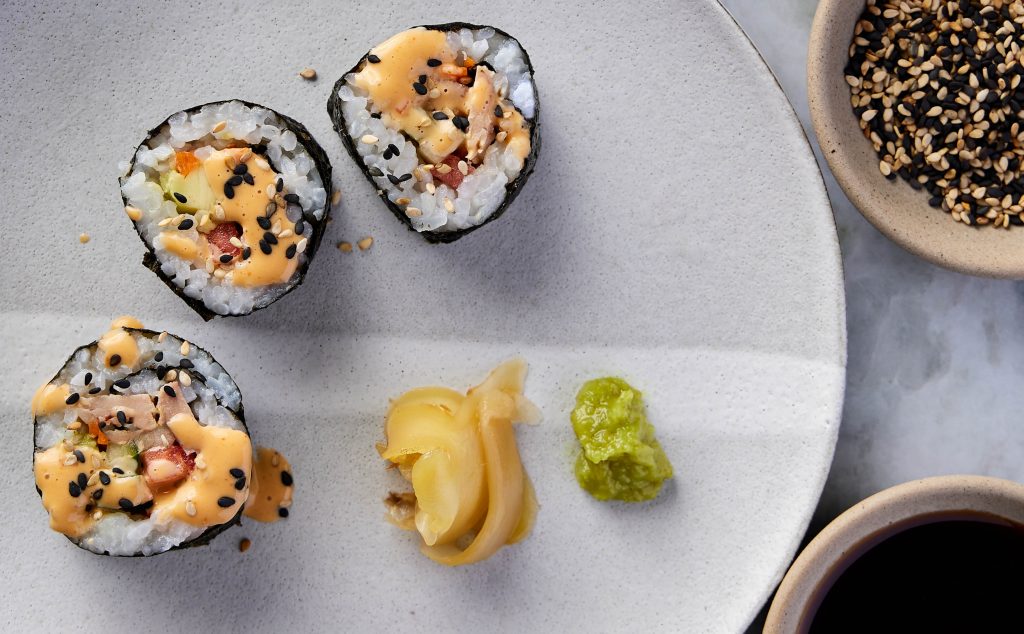 Ingredients
Spicy Sauce
¼ cup Mayonnaise 
1 TB soy sauce (tamari if GF)
1 tsp sugar 
2 – 3 TB Sriracha (more or less depending on desired spiciness)
Filling
1 avocado sliced into strips 
1 jalapeno sliced into strips  
1 cucumber sliced into strips 
2 carrots sliced into strips 
6 – 8 strips of watermelon 
6 – 8 nori sheets 
1 – 2 jars of Tonnino Ventresca Tuna, drained and broken into strips about ¼" thick 
Soy sauce (or tamari if GF), pickled ginger and wasabi
Sushi Style Rice
2 cups cooked rice (white, brown, sushi rice) – cook as directed omitting any additional salt or oil 
¼ cup rice wine vinegar (unseasoned) 
4 tsp white sugar 
½ tsp salt
Directions
For Spicy Sauce
Mix all ingredients in a bowl, taste and season with salt and pepper if needed
Set aside in the refrigerator  
For Sushi Rice
Cook rice as directed omitting any salt or oil 
While rice is cooking, heat rice wine vinegar and sugar in a saucepan on medium high heat until sugar has dissolved and pull off heat  
Once rice is cooked transfer HOT rice to a large bowl and drizzle warm vinegar on rice and begin to fold the mixture together with a slicing and lifting motion with a spoon or rubber spatula to try and coat rice with vinegar mixture
Cover rice with a damp paper towel or tea towel. Leave rice on the countertop until it cools to room temperature.
For Assembly
Place nori sheet on bamboo sushi rolling mat
Evenly spread a thin layer of sushi rice all over nori sheet using the back of a spoon or fingers. Keeping fingers wet will help with rice not sticking 
Spread spicy sauce on the lower 1/8th of nori sheet and then add strips of avocado, watermelon, cucumber, carrots, tuna and jalapeno 
Gently pick up bottom edge of mat and fold the edge of the ingredients in and under and then tightly roll the rest of with the bamboo mat until everything is roll up nice and tight. 
Slice with a VERY sharp, non-serrated knife and drizzle with additional sauce if desired
Enjoy with soy sauce, pickled ginger and wasabi 
Notes
This is a great way to use up veggies so get creative! Spicy sauce can be made ahead of time or stored for a week in the refrigerator for future use.