Thai Fried Rice
Type: Dinner
Servings: 4
Prep Time: 15 mins
Cook TIme: 15 mins
Rice and shine and try this awesome recipe.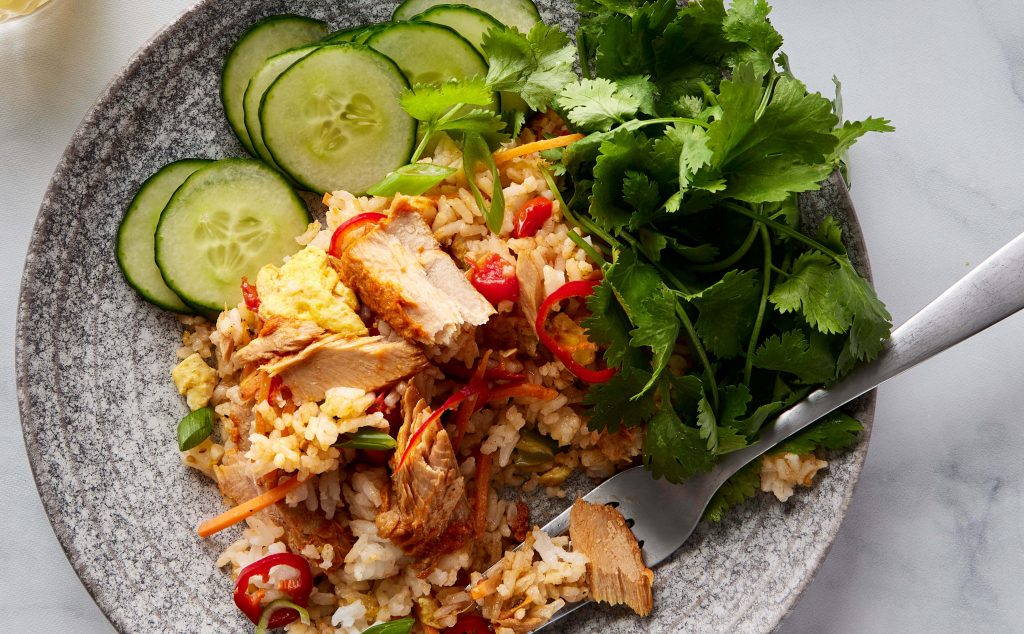 Ingredients
4 cups of rice (white or brown) – cooked as directed 
2 jars of Tonnino Thai Chili Albacore, drained and chopped 
½ cup of shredded carrots 
2 – 3 cloves of garlic minced 
3 TB neutral oil 
4 eggs scrambled 
2 TB fish sauce 
1 cup of tomatoes (any kind), diced 
3 scallions, thinly sliced
1 ½ tsp of freshly grated ginger
¼ cup of cilantro chopped
1 cucumber, halved, deseed and sliced 
Garnish with extra scallions, fresh sliced chili, crushed red pepper and lime wedges
Directions
Make rice as directed, cool and set aside  
Chop tuna into large chunks and set aside  
Scramble eggs and set aside 
In a large skillet add remaining oil and over medium high heat sauté garlic, ginger, carrots, tomato, salt and pepper for about 2 minutes
Add eggs, rice, fish sauce and scallions to pan with vegetables. Toss to together and warm through. 
Turn off heat add tuna. Toss together and serve immediately 
Garnish with cucumber, cilantro, extra scallions and crushed red pepper
Notes
If fish sauce isn't your thing feel free to add extra ginger, garlic and scallions instead, or maybe even a splash of soy sauce.