Thai Tuna Bowl
Type: Dinner
Servings: 4
Prep Time: 15 mins
Cook TIme: 20-30 mins
The flavors are gonna bowl you over.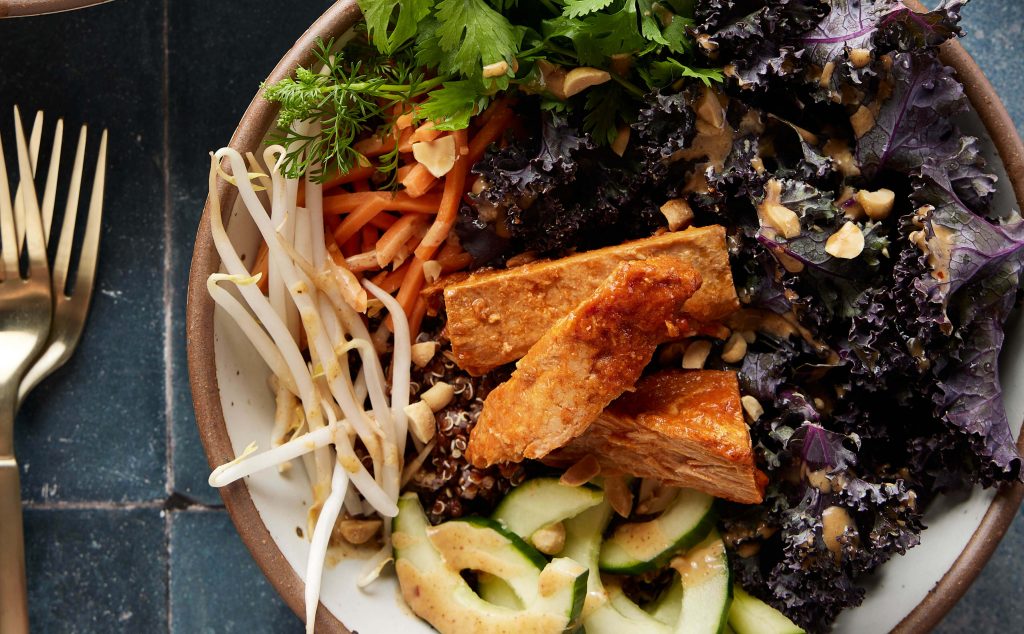 Ingredients
Peanut Sauce
2 cups of cooked brown rice, farro or quinoa 
1 English cucumber halved and sliced 
8 – 10 kale leaves finely shredded 
1 lime juiced 
1 cup of shredded carrots 
Bowl Toppings
2 jars of Tonnino Yellowfin Thai Chili, drained and reserve 1 TB of oil  
¼ cup of fresh chopped cilantro 
1 ½ cups of red shredded cabbage 
1 cup of mung bean sprouts  
¼ cup chopped roasted peanuts 
Salt and pepper
Directions
For Dressing
Mix all ingredients in bowl, season with salt and pepper with whisk or use a hand blender and set aside in the refrigerator. If mixed by hand the dressing will be more textured . If dressing is too thick slowly add in a tiny bit of water or coconut milk one tsp at a time to thin to desired consistency 
For Bowl
Place chopped kale into a bowl and add lime juice and ½ tsp of salt and pepper. Massage kale leaves with lime juice until leaves have softened (about 2 minutes) 
Place tuna in a bowl with 2 TB of fresh cilantro and 1 TB of olive from jar 
Divide cooked rice evenly in the bottom of 4 bowls 
Divide remaining ingredients in all four bowls including kale and top with tuna mixture 
Drizzle with dressing and enjoy! 
Notes
This recipe is so flexible. Use your favorite combination of seasonal vegetables. The dressing goes with everything! This recipe can also be served warm, cold or room temp.