Tropical Ceviche
Type: Dinner
Servings: 6
Prep Time: 10 mins
Cook TIme: 30 mins
Mango-go-go try this one.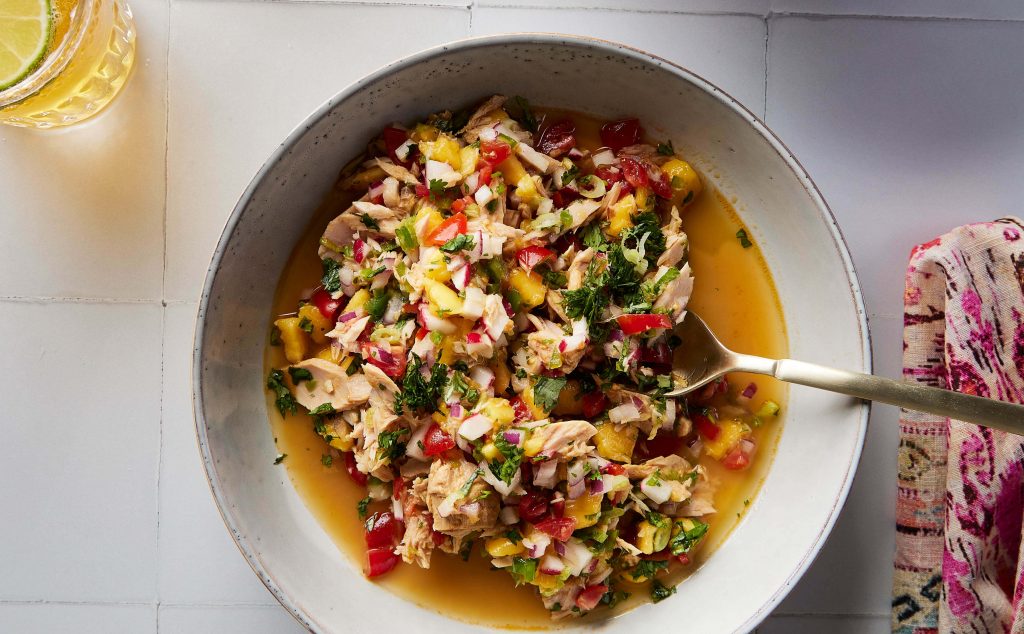 Ingredients
Marinade
2 limes juiced
1 orange juiced 
½ tsp cumin 
2 cloves of garlic finely minced 
Salt and pepper to tas
Ceviche
2 jars of Tonnino Yellowfin Jalapeno Tuna, drained
½ cup chopped fresh cilantro  
2 scallions thinly sliced
1/3 cup of finely chopped red onion 
1 jalapeno thinly sliced
½ cup of radish finely chopped
1 cup of cherry tomatoes finely chopped 
1 ripe mango finely chopped
Directions
For Tuna and Marinade
In a large bowl mix lime, orange juice, cumin, garlic and cumin 
Add tuna and lightly toss together keeping tuna in 1" chunks and set aside
For Ceviche
In a separate bowl mix together remaining ingredients and combine well 
Add in tuna and marinade 
Gently toss, season with salt and pepper
Set aside in refrigerator for ½ hour 
Serve with favorite tortilla chips and plantain chip
Notes
What the fruit? If mango is hard to find, pineapple would be a great substitute here. For an extra bit of richness add chopped ripe avocado. If you like it spicy, add in some additional chilis like habanero or serrano.