Tuna Bibimbap
Type: Dinner
Servings: 4
Prep Time: 15 mins
Cook TIme: 60 mins
This bibimbap will put you on the food map.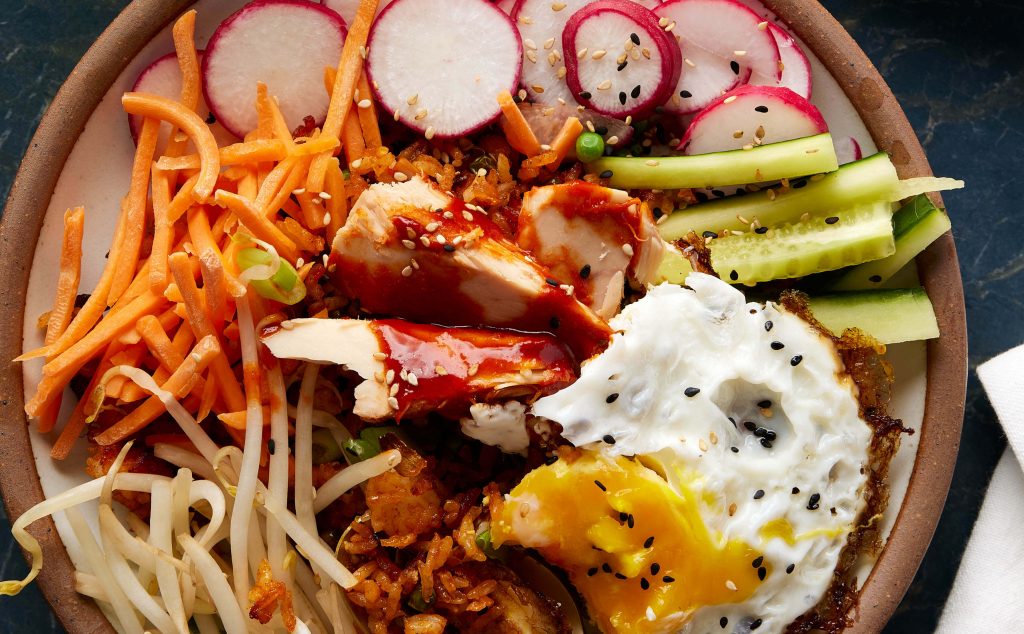 Ingredients
Sauce
4 TB gouchujang, sub sriracha  
2 tsp sugar 
2 1/2 TB soy sauce or tamari (if GF)
½ tsp of toasted sesame oil  
1 tsp of rice wine vinegar 
Salt and pepper to taste
Bibimbap
1 cup of cooked white or brown rice 
2 ½ TB of butter, cut into pieces
1 medium onion, finely chopped
1 tsp neutral oil (canola, vegetable oil etc) 
½ cup of shredded carrots  
2 – 3 radishes thinly sliced
½ cup peas (if frozen, thaw out) 
1 jar of Toninno Albacore Spring Water, drained 
½ cup of mung bean sprouts  
¼ cup kimchi 
2 scallions thinly sliced 
2 eggs, fried sunny side up (optional) 
Salt and pepper, toasted sesame seeds
Directions
For Sauce
Mix all ingredients in bowl, season with salt and pepper with whisk or use a hand blender and set aside in the refrigerator. If mixed by hand the dressing will be more textured. If dressing is too thick slowly add in a tiny bit of water, one tsp at a time to thin to desired consistency 
For Bowl
Cook rice as directed by package and set aside 
In a medium pan place 1 tsp of oil and sauté onion until translucent, season with salt and pepper and set aside 
Preheat oven to 425F
In large bowl place rice, sautéed onion, butter and half of sauce. Mix together and put on large sheet pan in oven even layer
Bake rice in oven for 25 – 35 minutes checking half way through and mixing up rice slightly to allow of even browning 
Rice should be crispy, slightly dry but not burnt. Once rice is at this point, remove from oven and set aside 
Cook peas according to package directions 
Place tuna in a bowl and lightly mix 2 tsp of sauce 
Divide cooked rice evenly in the bottom of bowls 
Divide remaining ingredients in two bowls and top with tuna mixture and fried egg 
Drizzle with dressing, sprinkle toasted sesame seeds and enjoy!