Tuna Buddha Bowl
Type: Dinner
Servings: 4
Prep Time: 15 mins
Cook TIme: 20 mins
Find some inner peace in a bowl of zen.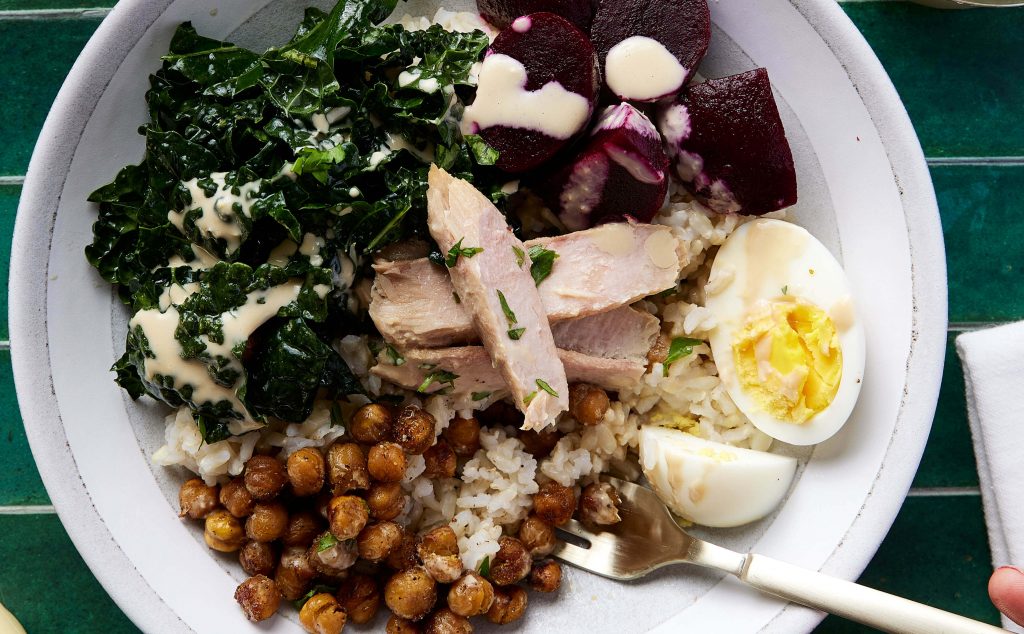 Ingredients
For Dressing
1/3 cup tahini 
3 TB fresh lemon juice
3 TB maple syrup or honey 
1 TB olive oil or neutral oil 
1 TB soy sauce or tamari (if GF)
1 tsp of fresh grated ginger 
1 clove or garlic finely chopped
Salt and pepper to taste
Bowl Toppings
2 cups of cooked brown rice, farro or quinoa 
1 package of pre roasted beets, chopped 
8 – 10 kale leaves finely chopped 
1 can of chickpeas, cannellini or black beans 
1 jar of Tonnino Ventresca Tuna, drained 
¼ cup of fresh chopped herbs (any combination of parsley, basil or dill) 
4 hard boiled eggs 
1 lemon juiced 
3 TB of olive oil 
Salt and pepper
Directions
For Dressing
Mix all ingredients, season with salt and pepper in a blender or use a hand blender and set aside in the refrigerator. If mixed by hand the dressing will be more textured. If dressing is too thick slowly add in a tiny bit of water one tsp at a time to thin to desired consistency 
For Bowl
Place chopped kale into a bowl and add ½ lemon juice, 2 TB olive oil and ½ tsp of salt and pepper. Massage kale leaves with lemon juice and olive oil mixture until leaves have softened (about 2 minutes) 
Place tuna in a bowl with 2 TB of fresh chopped herbs, remaining lemon juice and 1 TB of olive oil and mix together 
Divide cooked rice evenly in the bottom of 4 bowls 
Divide remaining ingredients in all four bowls including kale and top with tuna mixture 
Drizzle with dressing and enjoy! 
Notes
Using pre-packaged items like pre-roasted beets or pre cooked beans helps cut the cooking time down and makes this a great week night meal or easy lunch! For a fun twist try using pre-roasted chickpeas for extra crunch!