Tuna Caper Pasta
Type: Dinner
Servings: 4
Prep Time: 10 mins
Cook TIme: 20 mins
Let the kitchen capers begin!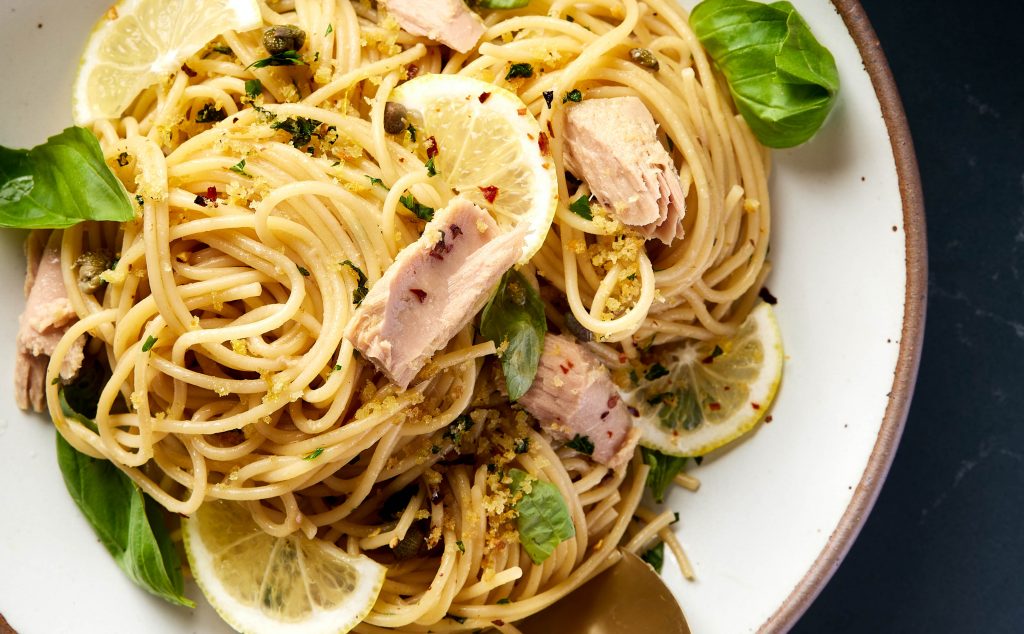 Ingredients
Breadcrumbs
½ cup Panko Bread Crumbs 
Zest of one lemon
4 TB olive oil or neutral oil 
2 tsp of fresh chopped parsley and/or basil
1 tsp of crushed red pepper 
1 clove or garlic finely chopped
Salt and pepper to taste
Pasta
1 lb of long pasta (spaghetti, linguini, bucatini or favorite GF pasta) – cooked as directed 
½ cup of reserved pasta water 
3 cloves of garlic finely minced 
4 anchovy filets, finely chopped 
2 TB capers chopped 
1 small shallot finely diced 
2 jars of Tonnino Yellowfin Tuna in Olive Oil, drained
½ cup of fresh chopped herbs (parsley, basil) 
Lemon 
3 TB of olive oil 
Salt and pepper
Directions
For Breadcrumbs
In large skillet on medium heat add oil and sauté garlic for one minute until fragrant 
Add crushed red pepper and sauté additional minute
Add panko and evenly coat with oil garlic pepper mixture continue to sauté over medium heat until panko is slightly toasted and golden brown. Pull from heat, season with salt and pepper and add in fresh herbs and lemon zest. Set aside
For Pasta
Salt pasta water and bring to boil, cook pasta as directed to al dente and reserve ½ cup of pasta water at the end of the cooking process
(While pasta water is boiling/pasta is cooking) 
In a large skillet over medium high heat add 3 TB of olive oil, shallot and garlic. Sauté until fragrant   
Add anchovy and sauté for 2 -3 minutes almost melting into the mixture 
Add capers, pinch of salt and pepper and fresh herbs sauté for additional minute and then add in reserved pasta water and simmer for 2 minutes until slightly reduced. Add cooked pasta into skillet and mix everything together and cook for an additional 2 minutes to reduce pasta water further and allow pasta to soak in everything 
Turn off heat and add in fresh herbs, tuna and toss together
Finish dish with generous sprinkle of breadcrumb mixture
Notes
Breadcrumbs can be stored for 3 days in a sealed container in pantry. Great sprinkled on top of pizza, salads and any other pasta dishes!