Tuna Niçoise Salad
Type: Dinner
Servings: 4
Prep Time: 10 mins
Cook TIme: 20 mins
Beleaf us, this one's a keeper.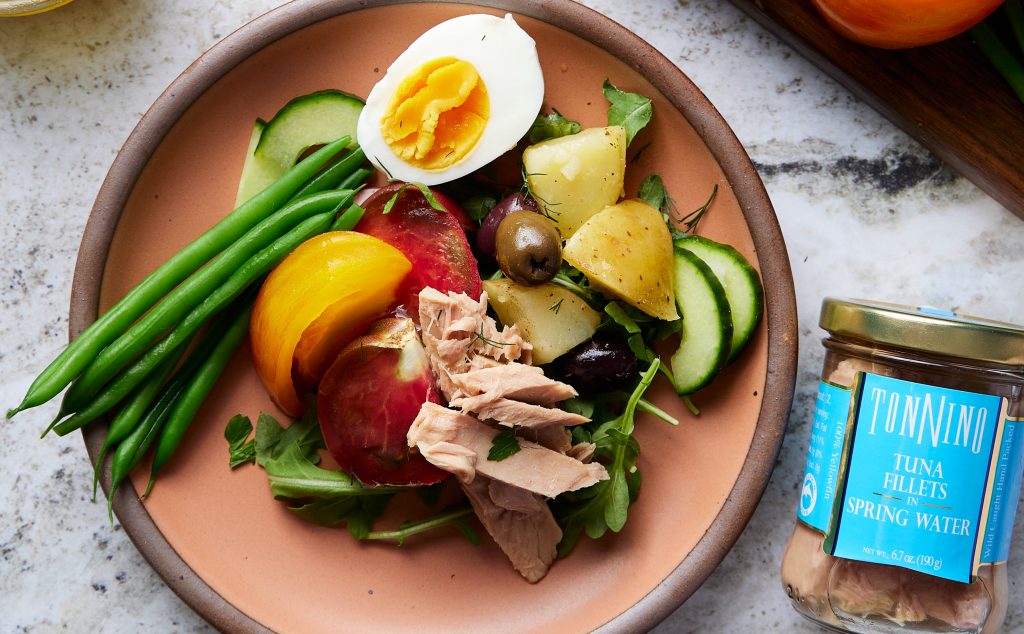 Ingredients
Dressing
1/3 cup olive oil 
2 1/2 TB fresh lemon juice
1 tsp Dijon mustand 
1 clove of garlic finely chopped
1 tsp of honey
Salt and pepper to taste
Salad
4 cups of favorite salad greens  
1 English cucumber halved and sliced 
2 cups of green beans, cooked and blanched    
2 jars of Toninno Yellowfin Spring Water drained 
4 soft boiled eggs 
½ cup mixed olives 
2 cups tomatoes (heirloom, cherry, hot house, whatever is in season), chopped 
¼ cup fresh herbs (dill, basil, parsley)
1 lb Yukon gold, red bliss or fingerling potatoes, sliced and boiled 
Salt and pepper
Directions
For Dressing
Mix all ingredients, season with salt and pepper in bowl with whisk and set aside
For Salad
Create an ice bath, take a medium sized bowl and fill half way with ice and water, set aside 
Fill a small pot with water and a pinch of salt and bring to a boil. Place the green beans in the water for about 2 minutes and place drained green beans in an ice bath to stop cooking process and preserve the bright green color 
Bring pot of water back to a rolling simmer and place eggs in pot. Cook in simmering water for 7 minutes, for a firmer egg cook for 8 – 10 minutes. Place drained eggs in ice bath with green beans 
In a second pot, place cut potatoes in pot and fill with cold water, add a pinch of salt and bring to a boil. Allow potatoes to boil for 10 – 15 mins until done, drain and set aside 
On a large platter place greens, herbs and arrange tomatoes, olives, cucumbers, eggs, green beans, potatoes and tuna
Drizzle with dressing and enjoy!